By putting water at the heart of business operations and increasing water self-sufficiency, arable farms become less dependent on the weather. Restrictions on water use are also decreasing. This makes arable farmers more resilient in periods with limited water availability. This is stated by Rabobank in its report on water management in arable farming.
In its report, Rabobank distinguishes four themes with which arable farmers can get started: economical and effective use of water, retention of rainwater on your farm, risk management and regional cooperation. Water retention can be done, among other things, by increasing the water-storing capacity of the soil, for example by improving the soil structure and increasing the organic matter content. For example, 1 percent extra organic matter in the soil contributes to extra water storage on sandy soil of 6.8 mm and on clay soil 9.3 mm6, the bank states in its report. Other options include constructing a weir in ditches around the plot, using level-controlled drainage, or underground water storage in the plot.
Cultivating less dry-sensitive crops
In the area of ​​risk management, growers can consider taking out comprehensive weather insurance. In addition, the bank recommends reviewing the current cropping plan and making any adjustments, such as replacing drought- or salt-sensitive crops with stronger crops or crops with a different growing season.
In order to have sufficient water available, collaboration with chain parties in the region is important, says the bank. There are joint interests, such as buyers who have an interest in a constant product quality and quantity, and water boards and nature organizations that want to protect vulnerable nature. By proactively collaborating with chain parties in the field of water management, arable farmers ensure that the interests and challenges of the sector are heard.
We are also seeing a new development in the Netherlands: experimenting with underground drip irrigation for arable crops. The advantages of this are a higher irrigation efficiency (75-95%), a lower labor demand during the season and an increase in the security of supply of crops. But the system is less flexible than reel irrigation and the fixed costs for installation are higher. For areas with a lot of high netting crops (such as onions, potatoes and carrots) in the crop plan where less water is available, underground drip irrigation can be a way to use water in the best possible way. (Rabobank)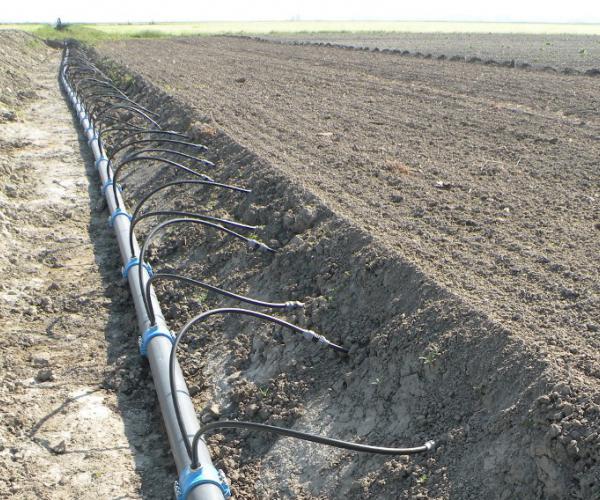 Open doors?
The options for water management mentioned in the report seem to be open doors, but Rabobank believes it is important to continue to bring these themes to the attention of arable farmers. Awareness, says Gea Bakker-Smit, arable sector manager. "We have seen a lot of investment requests for a reel in recent years. But a reel is not everywhere a convenient solution for the future. What do you do with a reel if there is a (temporary) irrigation ban? We want to look for structural solutions with the growers, also with a view to the social discussion about water use."
In addition, arable farming has the lowest priority in the so-called national displacement series. These are agreements made by the government about who gets how much water during a period of water scarcity. "Agriculture is in fourth place, the last place. This means that other services are given priority when it comes to the distribution of the available water."
Water management is something that all arable farmers are already working on, Bakker-Smit knows from customer conversations. "We want to see with them what they have already done and whether that is sufficient for the future. We don't give a ready-made answer, but we want to discuss with the growers what best suits them and their company."
The summer drought of recent years led to arable farms investing in irrigation. Think of reels and/or hitting wells. According to the Business Information Network, the number of farms applying irrigation has increased to 45% in 2019. The number of irrigated hectares is also increasing. This allows arable farmers to bridge drier periods. However, investing in irrigation is not without risk. Under certain circumstances, irrigation can be banned because the groundwater level drops too much or the regional water supply comes under pressure.(Rabobank)
Rabobank Agriculture