Control. Efficiency. Sustainability. Technology. All are shaping the future of production agriculture. With low margins, shrinking water resources and increasing regulation, the future is, in fact, here.
This combination of forces has dramatically increased interest in precision irrigation management, and with it fertigation and chemigation. "Technological improvements have made it possible for ag producers to match nutrient application to the precise needs of their crops on a foot-by-foot basis," says Erik Tribelhorn, CEO of Agri-Inject. "With chemigation or fertigation, the producer controls the timing and the rate, maximizing input efficiency and minimizing volatilization or leaching. It's a win for both the bottom line and the environment."
If you have a pivot system (or systems) and the benefits of fertigation and chemigation make sense to you, your next logical question might be, "How do I get started? And how hard is it?"
"The first key is, come at this with the attitude that you can do it yourself—because you can," says Tribelhorn. "We've made our systems simple to set up, calibrate and use. It's not an intimidating process, and technology has made the transition even easier." The first step an irrigator needs to cover to make the move to chemigation is to match the right fluid injection equipment to his irrigation system.
Agri-Inject's website includes a "System Builder" questionnaire that walks customers through the process of identifying the key requirements for their particular systems. The questionnaire provides the company with the information they need to get the best equipment for specific applications.
The second step is to look at your irrigation system in question to ensure it is chemigation-ready. "First, you need to make sure you have a backflow preventer to ensure that chemical doesn't flow into your water source," says Tribelhorn. "We can provide you with the regulations for your particular location so you can make sure you're in compliance."
Tribelhorn says most systems will then only need a few relatively minor adjustments to ensure they can deliver top chemigation performance. "For example, make sure your nozzle package is in good shape and operating at maximum efficacy," he says. "Uniform water application on every square foot means your chemicals are also being applied at the required levels."
There is also a short checklist of physical setup requirements:
A clean, flat surface on which to locate the injection system
An injection point near the system, properly threaded to accept the fluid injection quill
A power source nearby the injection point
Even the part of the process most intimidating to non-math majors—determining how to calibrate the system for various fertilizers and chemicals—poses little problem.
"Our Apply Yourself App takes all the guesswork out of selecting and calibrating injection pumps," says Tribelhorn. "It works on a cell phone or tablet and is available for both Apple and Android devices. And the app does all the math."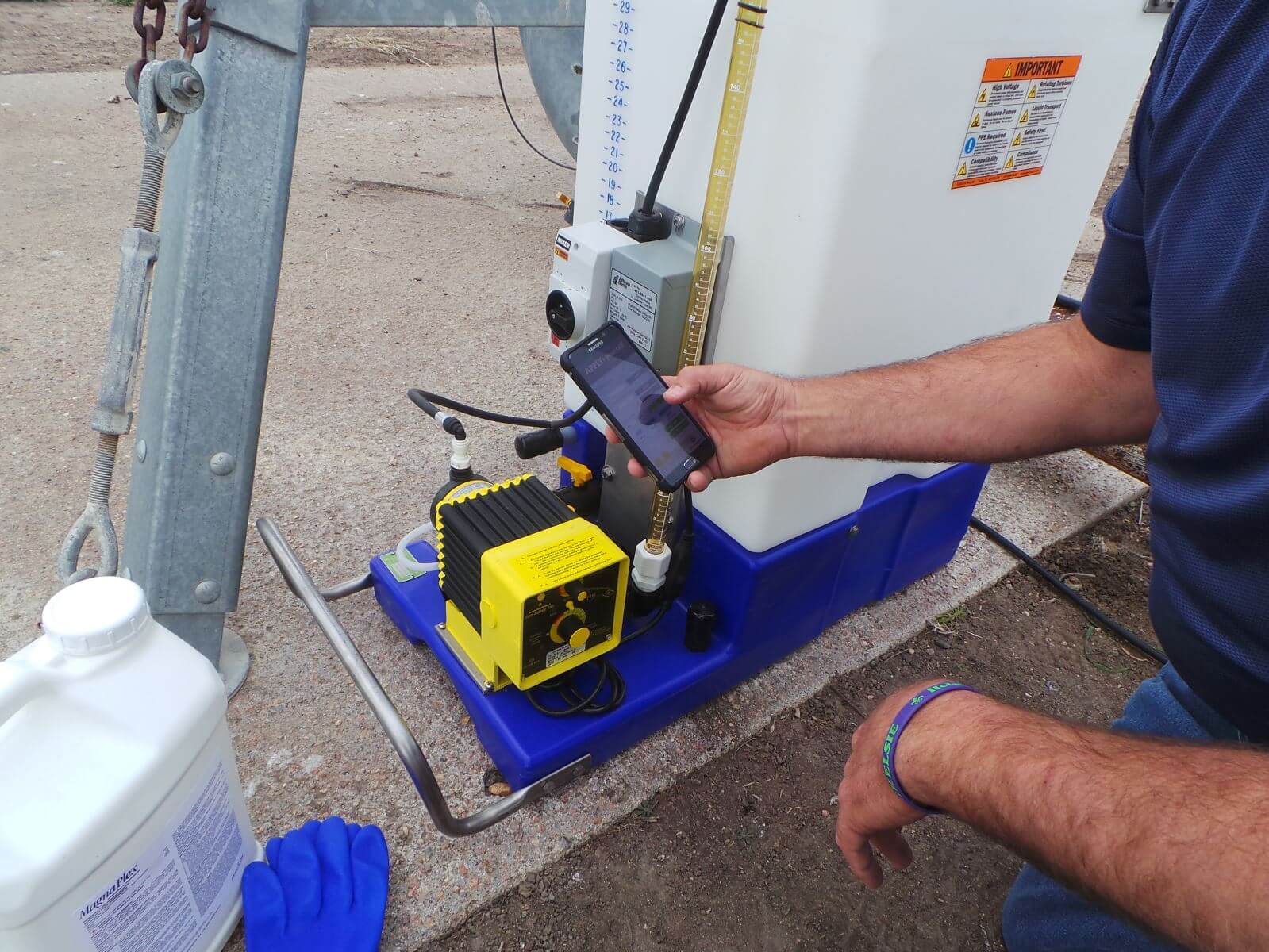 Agri-Inject also offers a kit that can be hooked to a garden house to flush the injection system between chemical and fertilizer applications, making cleanup simple as well.
Growers can take just a few simple steps to get started and help maintain their systems in good working order season after season. With relatively little effort they can gain the freedom to efficiently apply nutrients and manage pest and disease problems on any schedule and to any specifications.