Visitors to this year's Driffield Show will be the first to see the latest enhancements to a revolutionary system that counts and sizes potatoes at the point of harvest or while grading potatoes into store.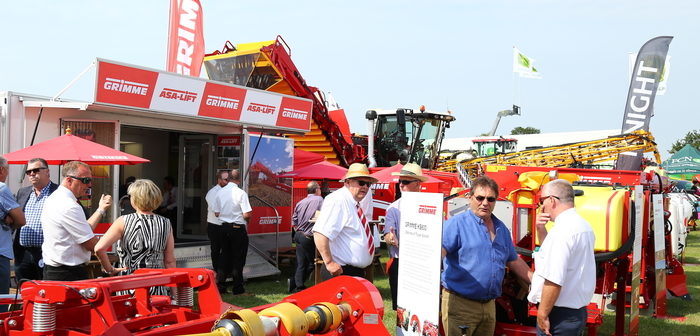 GRIMME UK will be attending its first event in over a year and will be showcasing the latest version of HarvestEyeTM, the patented technology developed in conjunction with B-Hive Innovations.
Launched at British Potato in 2019, HarvestEye uses a 3D camera and machine learning to count, size and analyse variations in the crop when they are harvested.
Visitors to GRIMME UK's stand (#180) will be introduced to a new 3D camera that has been incorporated into the latest system update, providing even greater accuracy. HarvestEye has also upgraded the hardware and wiring in the system, which can easily be retrofitted to harvester systems to allow growers to have full visibility of how crop performance varies throughout their fields.
"HarvestEye allows users to improve crop performance and field returns," says Ed Hodson, Potato Product Specialist at GRIMME UK. "The technology is straightforward to install and helps users plan their business more effectively, eliminate waste in the supply chain and optimise crop returns. We are really looking forward to welcoming people to our stand and showing them the recent enhancements that HarvestEye has added to the platform."
HarvestEye™ is a UK patented technology that provides insight on size, count and crop variation on unwashed potatoes as they are harvested. The integrated data analytics shows precisely what is being lifted and from where in the field. Providing greater field level information than conventional sampling: this insight will help maximise marketable yield and reduce crop imbalance.HarvestEye's non-destructive technology which accurately measures size, count and crop variation, giving instant insight on marketable yield which means you can get the best price for your harvest.
Key Features –
Integrated camera technology with sophisticated computer algorithms
Can be retrofitted to existing harvester systems
Live information during harvest as the crop is lifted from the field
No requirement for additional processes i.e. washing
Starting technology for exciting future developments
As a commercial product HarvestEye™ will be manufactured and supported by HarvestEye Ltd. An exclusive partnership arrangement enables GRIMME to be the sole UK distributor for HarvestEye™ for both new and existing harvesters and farm graders.
As well as the new additions to HarvestEye, GRIMME UK will have several other class-leading machines on show, including the Varitron 220, GB230 belt potato planter, GH2 two row ridging hiller, a range of irrigation machinery and a new Stanhay X Series drill.
Due to the pandemic, this year's Driffield Show will also be the first time GRIMME UK exhibits alongside Haith Group. The two companies entered into a strategic partnership in April 2020 to offer complete solutions from planting to harvesting, washing, grading and sorting. GRIMME UK will feature several of Haith's latest innovations on its stand.
"We made our first appearance at the Driffield Show in 2010, and because last year's show was cancelled, this will be the tenth time that we have exhibited. We know that this year's show will be different to previous ones, but we are incredibly excited about getting back to meeting people face to face, talking to them about their farms and showing them the latest additions to our range," adds Tom Goose, GRIMME's UK Sales Manager.
Driffield Show takes place at Driffield Showground on 21st and 22nd July.
To find out more about GRIMME UK, its collaboration with Haith and HarvestEye, visit https://www.grimme.com/uk