Joshua Kagera embraced potato farming with gusto four years ago. Back then he says, things were sweet. "I was able to live comfortably from growing the crop. I had a steady market and prices were good," Kagera recalls. So ambitious was he, that he leased 20 acres in Ol Kalou constituency to roll out the project. But along the way he says, brokers invaded the value chain and prices started dropping. He has since stopped growing the crop and instead ventured into more promising agri-projects.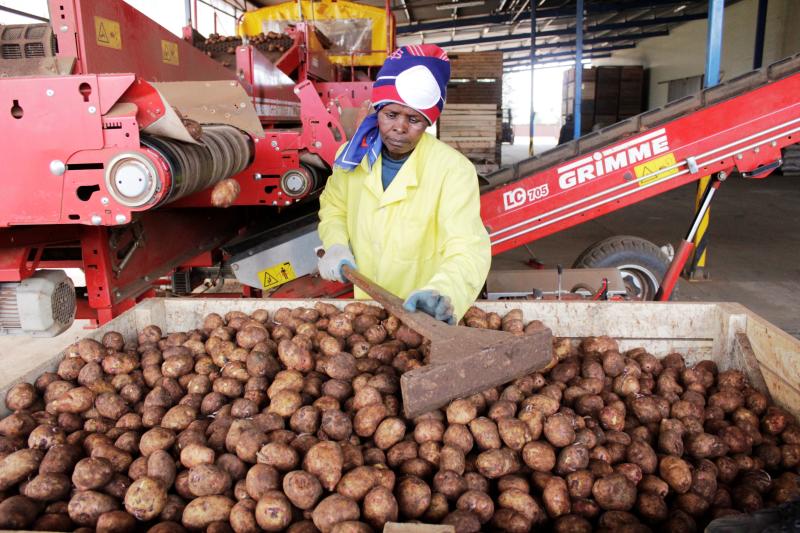 "I quit because the cost of farming potatoes in Nyandarua is too high from farm inputs, to seeds and labour," he laments.
He says potato seeds cost Sh3,000 per bag and a 50kg bag of fertiliser costs almost the same amount. Kagera says leasing land compounded the cost as he paid Sh10,000 per acre totalling Sh240,000 per year.
"Potatoes also need spraying to ensure the cold weather does not ruin the crop. So by the time the crop matures for harvest, the farmer will have spent a lot of money which he might not recover after selling the produce," he says.
Market glut potato farm
The other reason why he quit is brokers who dictate prices in the market.
"After you have toiled and soiled your hands to produce the potatoes, somebody comes and dictates how much he is going to pay you per bag. Because potatoes can't be stored for long, the farmer fearing his harvest might go bad, gives in to the demands of the brokers and sells the produce at a throw away price," he laments. Kagera feels potato farming can be profitable if the county governments walk the talk and regulate the sector.
"The promise by counties to ensure potatoes are sold by kilos and brokers are done away with should be implemented. Currently, there are many promises but no action is taken," he points out. But the story is different for George Rugene, who maintains that potato farming is still lucrative. "For me my experience has been encouraging. The secret is to invest in a good seed variety and tend to it well. I grow Shangi and I have never lacked a market for it," Rugene says.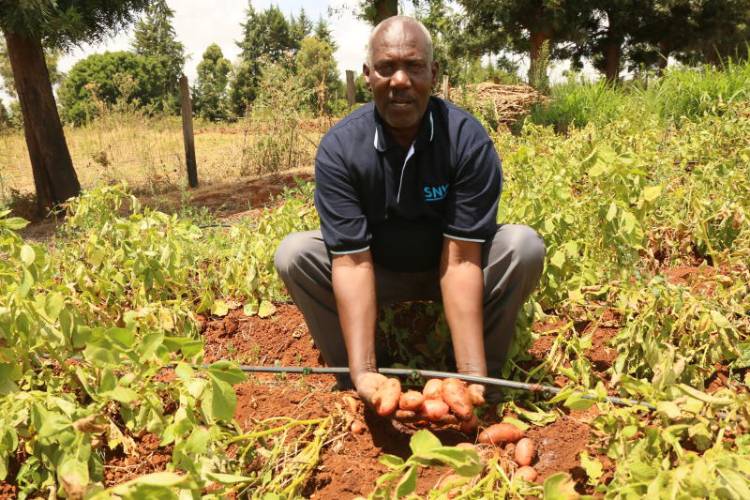 Shangi potato variety is grown by majority of potato farmers in Nyandarua County, which is a leading producer of the crop in the country. Shangi is loved because it matures fast, cooks well and tastes good when deep fried making it a preferred choice by fast food restaurants.  For Rugene, of all crops grown in Nyandarua, potatoes are never thrown away however bad the situation is.
"I have seen people feeding cabbages to their cows because of market glut, but I have never seen potatoes being given to animals," he observes. But though promising, Rugene calls on the national and county governments to make certified potato seeds available to farmers at subsidised prices.
Packaging issues for potato farmers
Extension service officers should also advise farmers on how to deal with the extreme cold that many a times leads to crop failure.
"The government should carry out research on how to prevent the cold condition in Nyandarua from damaging the potato crop. Chilly weather can wipe away an entire crop," Rugene says. Looking back, the farmer who has grown the crop since 2000, recalls that many people ventured into potato farming when the government of retired president Mwai Kibaki availed cheap fertiliser to farmers. On brokers, Rugene says they often step into the value chain to capitalise on the desperation of farmers who are always looking for money to prepare their land and buy fertiliser for the next planting season.
Rugene calls on the Ministry of Agriculture to rethink the law banning sale of potatoes in larger bags weighing more than 50kgs. Agriculture executive Dr James Karitu says enforcement of the regulations has not been successful because of laxity by some counties. In Nyandarua, Karitu says there has been laxity in enforcing the law due to closure of the two law courts that serve the County – Engineer and Nyahururu due to Covid-19 pandemic.