In some species and in some crops, pest monitoring requires the use of additional tools. In many cases, their purchase is a low cost that pays for itself quickly.
Every professional user of plant protection products is obliged to independently observe its crops for the presence of harmful organisms. Sometimes it is easy to write it when you have a few or a dozen hectares, but the problem begins when there are several dozen, several hundred or sometimes several thousand of them, including they are in different places in different positions and in a changing environment.
All this, however, affects what appears in the crops and in what intensity. The differentiation of positions is often an argument in favor of making careful observations, because having many fields, one can have positions where something happens every year, and often the cause of such a phenomenon is, for example, landscape architecture, which, for example, creates more secluded enclaves that favor many harmful species. It also happens the other way around.
Pest monitoringit has never been a simple activity. It requires not only expenditure of time and often physical work, but also knowledge, because you need to know, for example, the biology and appearance of organisms that damage these crops, including those that are often in the early stages of development (disease). Monitoring is mainly used to detect a threat early, assess it based on knowledge and own experience, and decide on the method of action – is the prevention sufficient, or is it necessary to use intervention methods.
In addition, monitoring must be carried out throughout the growing season, or at least it should be, because various threats appear at different stages of plant development, including the observation of plants, even after non-chemical and chemical treatments, allows you to assess whether they were effective or if something else needs to be done.
Pest monitoring has become particularly important in recent years.
Regardless of whether the farm specializes in the cultivation of agricultural, herbal, vegetable, flower or fruit crops, or is directed to seed production, the methods of pest monitoring are usually similar. They may differ in some details or the tools used, but most of the activities are similar.
Not only a magnifier
The basis for the monitoring is direct observation of plants in terms of the presence of pests (their eggs, larvae, pupae or adults) or damage caused by them. Above-ground or in some cases also underground parts of plants are analyzed, which requires excavation or extraction. Observations are made using eyesight, sometimes assisted by a magnifying glass or a portable stereoscopic microscope if small organisms are sought. Small organisms present on leaves, flowers or fruits can also be extracted from plants using an entomological exhaustor.
This device works on the principle of a vacuum cleaner, i.e. air is drawn in and insects collected from plants fall into the appropriate tube and stop on the filter inside the container. It often happens that the impulse to observe the cultivation is the deteriorating condition of the plants, indicating a problem, e.g. in the form of wilting, yellowing or even their falling out or lack of emergence. The observer tries to assess what is causing this phenomenon – the factor acting from above or hidden underground.
Dipper, drones, gyroplanes
Visual observation of above-ground parts of plants can be supported by the use of an entomological bucket. It is a simple device that allows you to extract highly mobile species from plants or species hidden in the nooks and crannies of plants. As they fall into the bucket's mesh, they become visible, so you can learn about their numbers and species composition, paying attention mainly to those that are characteristic for a given crop. Depending on the plant species, the cultivation at several sites is analyzed to capture the distribution of the pests. Similarly, scooping is performed at at least a few points, typically 100 scoop scoops.
Currently, drones or gyroplanes equipped with appropriate cameras, including hyperspectral cameras, are increasingly used to assess the condition of plants on the ground, e.g. whether they do not discolour, lie or form empty squares. It is worth using them in larger fields that are difficult to cross on foot. These devices will indicate possible places where the condition of the plants is deteriorating and then it is possible to analyze what is the cause if the camera does not give an unambiguous answer.
Spade and knife
In the case of the analysis of underground parts of plants, they should be dug up, so it is worth having at least a spade or a small spatula with you, but also a knife if you need to cut the stem or larger roots. Sometimes, when analyzing underground plant parts, the degree of damage to soil pests is analyzed using the harmfulness scale created for this purpose. At the same time, it is possible to look for potential damaging agents in the vicinity of plants.
Organisms collected from plants, soil or extracted from a bucket (they are transferred to plastic bags and poisoned with e.g. ethyl acetate) are analyzed on an ongoing basis or transported to a place where you can calmly count and recognize, e.g. using the already mentioned microscope stereoscopic. When we do not know the exact species of pests, various atlases are helpful for identification, both in printed and electronic versions, but there are also smartphone applications on the market that allow you to identify some species based on the photo taken. Such devices do not always recognize all species. Their effectiveness depends on the databases available, which, however, are constantly being improved.
Soil open pits
If there is a problem of soil pests in a given field, e.g. wireworms, grubs or agriculture, and they occur before sowing or planting crops, it is recommended to check where and in what abundance they occur in the field. For this purpose, soil pits are made, so a spade is necessary for this, it is also worth having a sieve to sieve the soil.
The more pests, and the more places, the more complete the picture of where the most pests are hiding. There is currently no technology for soil scanning and identifying hidden pests. As a rule, it is known that most of the soil pests are from the edge of the crop, from the side of the brush, so it is worth paying attention here.
Pest traps
All kinds of catch traps also play an important role in the monitoring of many pests . Their task is to lure to a certain place those species that, for example, lead a hidden lifestyle, are shy or are characterized by nocturnal activity. There are basically three types of traps: bait, pheromone and light traps, although traps are also colored glue boards, colored catch vessels or Barber traps, because they capture organisms that are in their immediate vicinity. You can distinguish:
Bait traps (groundbait traps) – are designed to attract a pest, and the attracting factor can be, for example, a plant or a preparation with a decoying effect. Such traps include, for example, cut potatoes that are buried in the soil to attract wireworms, a container filled with e.g. beer or boiled vegetables, e.g. carrots, attracting snails or fermenting grains that attract corn beetles. Pests descend into the trap, which is already an indication of their occurrence, but can also be counted and eliminated at the same time.
Pheromone traps – they work by irritating the odor receptors of some pests, mainly butterflies, but also flies or beetles. Either sex pheromones or food attractants are used as a fragrance. While the smell attracts insects to a specific place, such traps also use a factor that intercepts them, which are usually sticky, liquids or insecticide strips. In agricultural practice, the best known are pheromone traps for catching cabbage, various types of agriculture, the corn beetle or the corn beetle.
Traps used in horticulture operate on a similar principle, e.g. in berry plantations or in fruit orchards, where the range of species caught is much larger than in agricultural fields, because the risk to the marketable yield is often greater (most of it is direct consumption). There are many models of pheromone traps on the market, differentiated not only by the pheromone dispenser, but also by the housing. It is worth familiarizing yourself with its operation, and especially with the conditions under which these traps work best.
Light traps (snares) are known primarily to corn growers. They are used to catch species with nocturnal activity, in particular butterflies, and in agriculture. They allow you to catch individuals of both sexes. The source of the pest's attractiveness is light. The insects attracted by it fall into the container with the interceptor. Usually it is ethyl acetate, although water, ethyl glycol and possibly adhesive strips are also used occasionally. There are high-power bulb traps (up to 450 W) that must be powered by direct current, as well as low-power traps powered by a battery. There are also solar traps available on the market, which most often use low-power bulbs or LED lighting.
Yellow dishes and glue boards
In some crops, usually in the spring, yellow dishes are placed. Their color is to attract adults of some pests (mainly beetles, but also flies), which fall into a container filled with water with a small addition of detergent (reduces surface tension). In rape, even in this way, the appearance of beetles and rapeseed sweetener is monitored. Sometimes white or purple vessels are used, e.g. for catching flies from a corn farmer. Colored glue boards work in a similar way as dishes. They usually use a non-selective color, i.e. yellow, which attracts various insects, including harmful ones that stick to the non-settling glue. This is how insects from various systematic groups are caught. In addition to yellow boards, there are green, blue, white or transparent ones.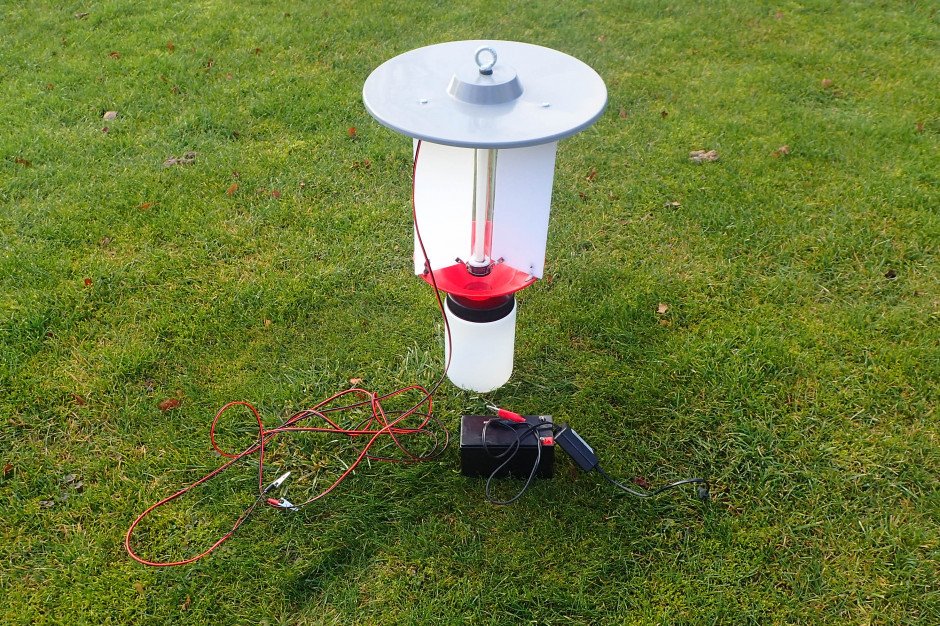 Entomological isolator
Another way of observing pests is to use an entomological isolator, i.e. a device in which some species will develop, indicating the dates when it happens, as well as their species composition or sexual structure. A typical insulator is nothing more than a fine-mesh mesh spread over a wooden, metal or plastic structure. The condition is that the material is permeable to light and water, so that the conditions inside the insulator do not differ significantly from those outside. Using an insulator, for example, the spring development of the European corn borer is observed, but often some larvae of the pests are put inside it with food so that they pupate and can be identified.
While the observations of own crops are of key importance for determining the phytosanitary condition of the crop, including the needs and timing of intervention control, it is worth confronting your analyzes with signaling messages from the outside, but from the closest vicinity of the farm. A good source of information is the IOR-PIB Signaling Platform. Some commercial companies also deal with the issue of messages, which in this way provide their customers with knowledge. These messages are intended to help, but may not be the only criteria taken into account, and should certainly not replace observations in a particular field.