The announcement that a trade deal between the UK and the EU had been agreed just days before the end of the transition period was hailed as a great relief to Scotland's farmers, crofters and the wider food chain.
With many in the industry fearing that a 'no deal' would mean the introduction of swingeing tariffs on farm produce, a conclusion to the long running saga was welcomed by industry bodies. "It is good news and a huge relief that a deal has been done," said NFU Scotland president Andrew McCornick.
However, with the detail of the deal still to be scrutinised and receive parliamentary approval, the union said that while it offered a platform for trade with the EU, it was unlikely to be entirely frictionless. The delay in getting an agreement had forced farmers into making big business decision for 2021 in a void – but they now had a degree of certainty that European markets would be accessible for most products, said McCornick.
However, he also stated that from January 1 trade would inevitably involve significant levels of bureaucracy, additional cost and delays, particularly in the early weeks as the new systems bedded in. And while he welcomed third country listing status, which would allow trade to continue for exports of meat, dairy and other products of animal origin, McCornick drew attention to the failure to include Scotland's internationally recognised seed potato industry. As an EU member state, Britain exported around 30,000t of seed potatoes, worth £13.5 million, to mainland Europe each year, the majority of those being high-health stocks grown in Scotland, while there was also significant trade with Northern Ireland.
However, despite being used as a political football, producers in the seed potato trade admitted that the possibility of trade halting with the EU had been flagged up weeks ago – and the vast majority of this year's seed destined either for mainland Europe or Northern Ireland had already been shipped there.
Although procedures within the industry were totally aligned with the rest of Europe during EU membership, the fact that the ban was based on Europe's requirements for "dynamic alignment" on regulations – a constraint which has clashed with the UK's focus on achieving post-Brexit sovereignty – has left producers uncertain as to what steps will be required to re-open the trade and how long this could take.
Seed producer and exporter Andrew Skea of Skea Organics said that along with the majority of exporters and despite additional cost and hassle, he had completed most consignments heading for the continent in the back end rather than during the normal spring period in order to beat any interruption to trade.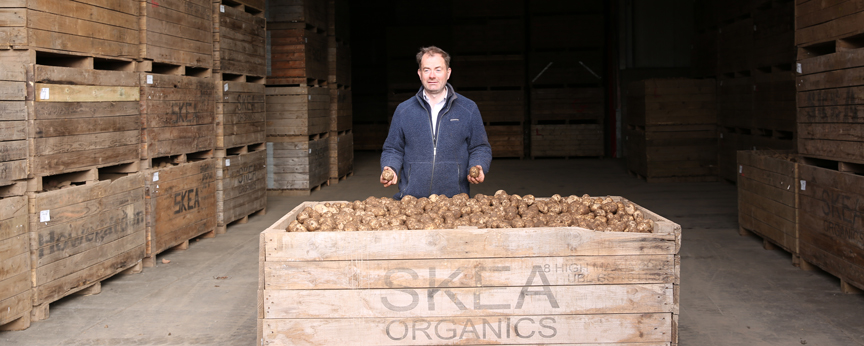 "However, as we don't know the details of why seed potatoes haven't been granted third country recognition, we don't know how long it will be likely to take to re-negotiate access to the European market. It could be weeks, it could be months or it could be even longer," he said.