Field sprayer steers and sprays at plant level
The company BBLeap has developed a sprayer that steers and sprays at plant level. The first machine was tested on potatoes last summer. The experiences are good.
The two faces behind BBLeap are Peter Millenaar and Martijn van Alphen. They worked for Agrifac for years. Millenaar broke new ground in 2018. Van Alphen stopped there last year as CTO. 'The new technique was too interesting', he laughs. A third man, Rieks Kampman, supports the team from South Africa.
A year ago the men started their plan: steering and spraying at plant level. To this end, they turned to arable farmer Jacob van den Borne in Reusel. 'We were looking for someone who had data with sufficient resolution to be able to work at plant level,' Millenaar explains. "Then not many people will be left."
Spare syringe stripped
Van den Borne's spare syringe, a 36 meter Damman from 2006, was stripped and the Leapbox built. A cubic box of hardware was removed and replaced with two small modules, a cable and a series of nozzles.
Anyone who thinks they are doing well with their spraying now does not have to get started with our technology,' says Millenaar with a wink. The undertone is serious.
Big step for agriculture
'After the rise of fertilizers and plant breeding, we see management at plant level as the third major step for agriculture. This is central to BBLeap. A new company was started in order to be able to take steps quickly. We focus on the system and not on the sprayer itself. Any manufacturer can become a customer, but the system is also available to end users. '
Van Alphen: 'We use Technology Ready Levels (TRLs) up to 9 for all products. Leapbox is now on TRL 8. Next year ten systems will be running worldwide. Other technology is under development with TRL 6 or 4. '
Pulsating nozzles
Leapbox is the heart of the machine, which revolves around the pulsating nozzles (PWM). The first machine has nozzles every 50 centimeters, but 25 centimeters is also possible. The system has sufficient capacity to control 250 nozzles, varying the delivery up to 40 times per second.
Millenaar: 'Our system must be able to handle a grid of 160,000 sections per hectare and that on an area of ​​2,500 hectares.'
Speed
The pulsating caps work at a speed of 100 hertz, but that does not say everything, Van Alphen emphasizes. 'It's in the speed and control of the solenoid valve, which opens and closes very quickly. So fast that the spray pattern does not suffer. Whether you drive 2 or 24 kilometers per hour, the spray pattern is perfect. You can easily drive away from the headland.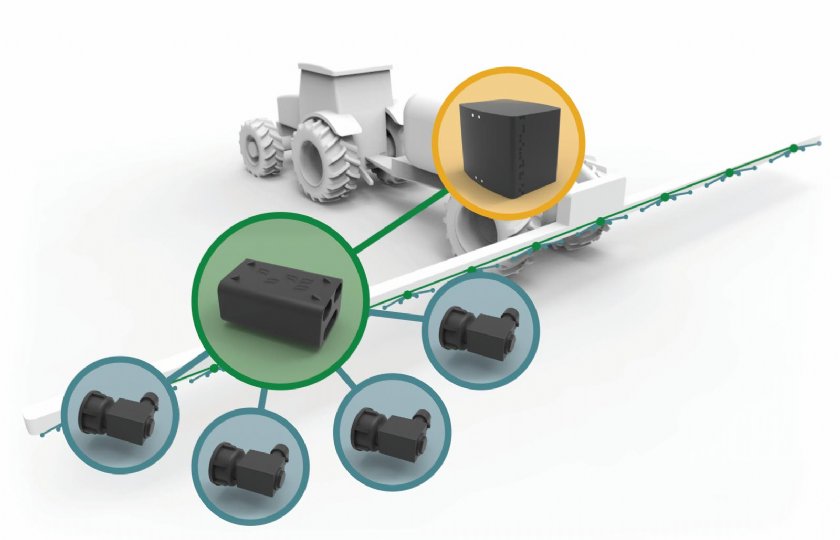 The system controls the delivery. In the direction of travel and over the entire width of the tree at plant level. 'Where we make the difference is that the delivery is also exact at very low or very high speed. We can create a fine and uniform droplet spectrum with one non-venturi 0.8 nozzle, 'explains Van Alphen.
95 percent drift-reducing
'We are working on the approval of this cap. The advantage is that it is 95 percent drift-reducing due to its rough classification. PWM technology is difficult to measure because the spray pattern is completely different from a conventional machine. '
The system sounds complex, but is extremely easy to operate. "We want to be the Apple of sprayers," says Millenaar. 'The driver enters the desired droplet size and application rate and the system does the rest. Those who are not yet ready to work at plant level can still achieve enormous profit thanks to the ease of use and the accurate application. '
Imperfections
Over or under dosing at bends and boom movements, the system removes all imperfections from the spray pattern. 'We not only shout that, but we also make it really hard. We do not intend to build a complete sprayer ourselves, but do not want to be hindered by lack of technology. For example, we are working on our own medium injection system and high-resolution mapping of the crop.
Leapbox will have limited availability from next year and will cost 1,000 euros per meter for a nozzle spacing of 50 centimeters and 1,500 euros for a spacing of 25 centimeters.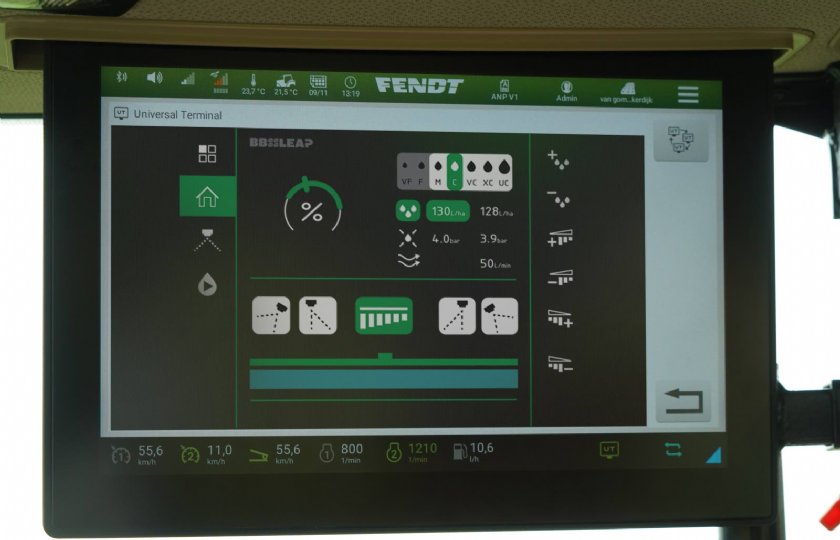 First experiences with BBLeap spray system
Since this summer, the 180 potato plots of Van den Borne Potatoes in Reusel have been sprayed by the Damman sprayer with BBLeap technology. Owner Jacob van den Borne is enthusiastic. 'We have performed the disease control site-specifically, with the release now being varied over 58 sections. This means an enormous amount of data in our area, 'says Van de Borne. It was therefore surprising that an older Fendt 936 can also handle the system. The latest generation of tractors can handle a lot more, allowing us to work even more accurately. BBLeap pushes technology to its limits. ' When driver René drives away with the machine, the PWM system is clearly visible. The caps seem to sputter and switch only twice per second.